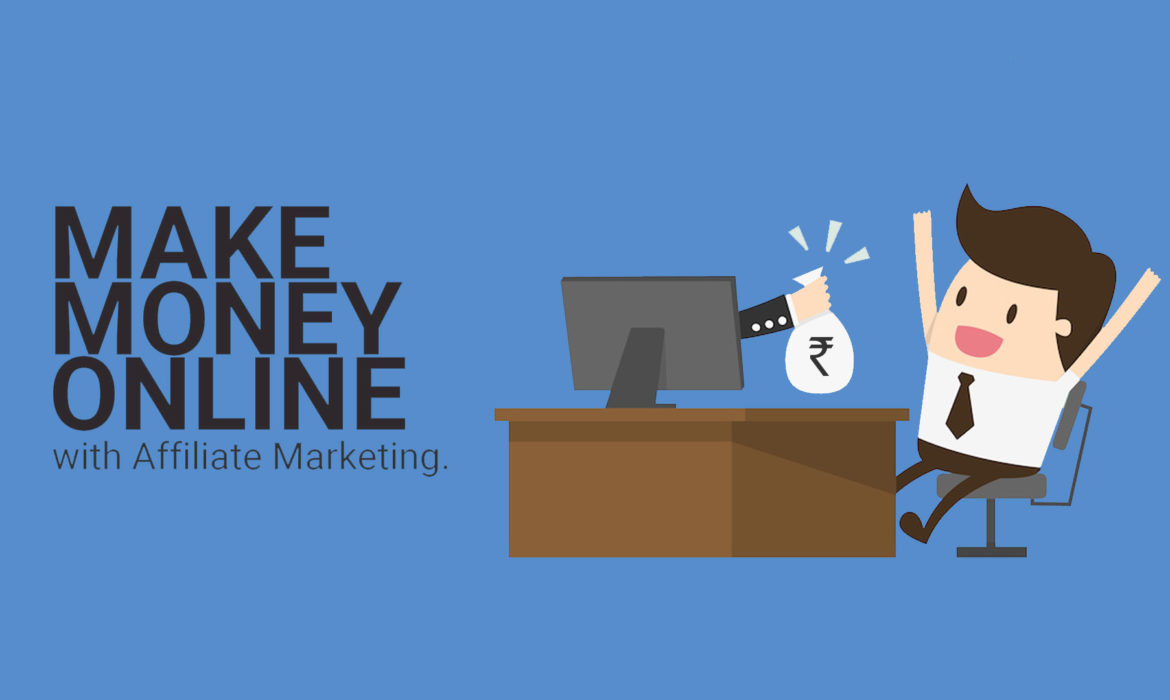 Seriously, how to make the most money with affiliate marketing?
Earning money with affiliate marketing, if you read about it online, it almost seems like you can get rich while sleeping.
Although that sounds too good to be true, I regularly receive an email when I get up with the message that I have made money again with affiliate marketing! Earning money while sleeping is, therefore, possible.
I'm not very rich yet, but I don't have to. With more than a thousand euros of passive income per month, you can already live quite well in Thailand. I write this blog from my apartment on the beach :).
So I'm sure: affiliate marketing is the way to build an extra income on the side. In this article, I will tell you everything about making money online with affiliate marketing and how you set it up yourself. I will also discuss what affiliate marketing is, which affiliate programs generate money, and how you can get started with it yourself. On to a passive income!
Build a passive income with affiliate marketing with affiliate marketing you can make money while you sleep; nothing more beautiful than that, of course. Don't confuse this with making money without doing something for it.
The work to get such a passive income has to be done before you make money. That process can take a long time, depending on the skills you currently have. I myself had my first income from affiliate marketing in the first month that I started it, but that only amounted to about 17 euros per month. Before this was a few hundred euros, I was already six months further. I am now well over a thousand, and that still increases every month because I am working on it.
The great thing is that the income now also comes in when I sit still for a while and therefore am not working. I will explain below what affiliate marketing is practical to understand so that you can understand that concept.
What is affiliate marketing?
Affiliate marketing means that you promote a product or service of a company in exchange for money. This could be because you have a website, blog, Instagram account, or YouTube channel that is viewed a lot. However, because you do not have a product or service yourself, you do not earn any money with this. In this case, you can use affiliate marketing.
With affiliate marketing, you become a partner of a company that offers products or services that match your followers or visitors. You then recommend those products or services to your target group. In that case, you use your channel as a place for the company to promote. Then the company will pay you according to your bet.
Are you planning to set up a WordPress blog to monetize affiliate marketing? It is advisable to choose a hosting party that can handle WordPress well, which makes it all a lot easier.
With affiliate marketing, you place links of specific products or services in your Youtube video description, between the articles of your website or with the description of your photo on Instagram. It may even be that you have a nice mailing list to which you send an email with the affiliate link.
When people then click on your affiliate link because they are interested in the product or service, they are traced on the company's website. The company will then see that you have referred them. If that visitor buys something from the company, you will receive a commission from the company. See the simplified model of affiliate marketing below.
Make Money With Affiliate Marketing, The Way!
By far, the most common way of making money with affiliate marketing is through sales. In marketing, they would say based on the Cost Per Sale (CPS) principle. The company pays you based on a product or service that has already been sold. This way, the company does not risk spending a lot of money on an ad that turns out not to work. So it is a very fair form of marketing. The better you can convince your followers or visitors to purchase the services and products, the more money you earn.
"Affiliate marketing is relatively new when we consider other forms of marketing. The reason for this is that this only became possible with the rise of the internet. Through the internet, we can easily trace where a sale comes from certain pieces of code.
When someone now clicks on one of your affiliate links, this will be stored in someone's cookies. In the past, we just had to take people's word for it when it came to who recommended the product or service. Now the internet helps us with that."
In the past, you should also have had sufficient confidence in the company you work with. After all, they have to tell you when something led to a sale. To have this confidence in affiliate marketing, there are intermediaries. These are affiliate programs that act as an intermediary to keep track of which click led to which sale. So you don't have to worry that you will be secretly stripped of your income.
For many affiliate programs, anyone can sign up, but before we go to affiliate programs, we first look at what kind of commissions are given so that you know how much you can earn with affiliate marketing.
Merits of Affiliate Marketing
A lot of money can be made with affiliate marketing. But even more interesting is that this income is often recurring.
"How much money you earn with affiliate marketing depends very much on the type of products and services you promote. For example, if you are an affiliate for online training, you have very high commissions of up to 50% of the sales price. While for tangible products (such as books), you often only have a commission of up to 8%."
The target audience that you attract to your channel, website or page is essential to how much you can start earning with affiliate marketing because it is that target audience that you will need to tailor the products and services you recommend to.
To give an example, someone who comes to a website with information about raising children will not purchase expensive online training. More logical for that visitor are affiliate links to children's clothing, and there is a small margin on that. You, as a promoter, therefore, earn less money.
If you are still developing a YouTube channel, Instagram, or website, it can be good to dwell on the topic. Is there anything valuable to sell to that target group?
In terms of earnings, I will give you an indication. I myself earn an average of more than 1000 euros per month passively with affiliate marketing. I do this through my website, where I have about 30,000 visitors per month. This number is growing day by day, and so there is good hope that this amount will increase further, and don't forget; it is passive. I don't have to do anything anymore!
I've learned from my work with affiliate marketing that it's especially important to look at the average earnings per click. Often the affiliate programs keep track of the number of clicks themselves, and you can see this. When you see how many clicks you have and how much total income over the same period, you divide them. This way, you can make choices in which affiliate programs to continue and which to quit.
A lot of people don't make much money with affiliate marketing, and this revenue per click is one reason for this. They choose too bad affiliate programs. In the section below, I will discuss my earnings per click with three different programs.
Top 3 Affiliate Programs To Make Money
There are numerous affiliate networks that you can join to earn money. Relevance is important here. Products and services that fit your channel are sold much better and are easier to promote.
Just think, if I suddenly start promoting a refrigerator in this article, the chance that you will buy it is very small.
The more relevant, the more you earn. Don't just focus on the commissions; mass is the cash register too! Rather a low commission with a lot of sales than selling nothing at all with some super vague product. Let's look at the three programs: bol.com, Paypro, and Tradetracker.
Paypro
Paypro is an affiliate program for mainly online products. Think of online training courses and e-books. The advantage of this is that the commissions are high. Each product also has its own landing page, which means that there are high conversions. With this affiliate program, I earn the most money myself, but registration costs you 50, – euro.
My average affiliate earnings per click at Paypro is 75 cents. This makes it an insanely strong affiliate program with a high income.
Trade tracker
A trade tracker is a collective platform for all kinds of affiliate partners. It is the largest gathering place in the Netherlands. Here you will find numerous Dutch companies that offer their products with commissions. So you will always find something that suits you.
My average affiliate earnings per click at Tradetracker is 27 cents. This makes it a great program. But beware. It can make a big difference here which product from which company you are going to promote :).
There are a huge number of affiliate programs that you can make money with
When you really start looking, you will no longer see the forest for the trees. There are so many affiliate programs to join. Therefore, my biggest recommendation is to work mainly with companies of which you are a customer yourself. Then you know for sure that you recommend something meaningful and you can probably also sell it better to others, after all, you know yourself what the product or service is like. Large companies often have an affiliate program that you can sign up with—so good Googling.
I also sometimes choose to approach companies myself if I am satisfied with their product or service and feel that I can also sell this to my target group. Sometimes they have a hidden affiliate program or think it is a good plan to start it up so that they can market their products or services via more platforms. The large companies almost always have an affiliate program, so it is just a search :).
Tips for Making More Money With Affiliate Marketing
When you have found a suitable program and joined it, it is time to post or promote the affiliate links on your website via your Instagram, Youtube, or other channels. Don't expect to make money just by posting links. Make sure you really recommend and promote the product or service and be realistic. There's nothing more annoying than someone just coming off as a spammer. Make sure that you actively get started with content creation in order to get more and more visitors or followers to whom you can present the affiliate links.
Nice is that once you know how many people click through on links and how high the conversion is, you can also calculate how much you would earn if you had more visitors or viewers. You can then set goals based on that, and it is enormously motivating.
For example, if I look at the statistics of my own website for a random month in 2020, I see that there were 30,232 visitors in one month who clicked 3412 times on affiliate links from the bol.com partner program. Of the clicks, 152 people placed an order with a total commission of 317.24 euros. Based on that metric, I then look at the top-performing pages on my website and add or adjust links as needed.
Statistics are a good help to grow and should therefore never be underestimated :). And that's how I actually do it with all affiliate programs I refer to. So learn to interpret and use statistics.
Keep growing in your passive income.
Just by starting with affiliate marketing, you will learn time by time how to sell more and earn more. There are many pitfalls that everyone enters again and again, and that is such a waste of the time that they put into it. You see many people referring to products that are not relevant to the target group, simply because they have a high commission. Ultimately, you will still not earn anything from it.
Refer to products and services that you believe in yourself, then your target audience also believes in them.
There are also many tricks to apply to make affiliate marketing such a success that you can live from it to the full. For example, you can take the first big steps by following good affiliate marketing training. You definitely recommended if you want to avoid working on something for months, that doesn't yield anything;).
If you apply affiliate marketing in the right way, everyone can get a full-time income from this. That should be possible for everyone to do within a year if you fully devote your time and attention to it. Although you can, of course, also choose to build it on the side, as I do myself. It all takes a little longer, but then you can work a little less and less because of the passive income!
Become an affiliate yourself instead of a publisher
Do you have your own product or service? Then see if you could use affiliate marketing the other way around that you yourself become a provider of a product that others can promote and sell. I do this myself, for example, with my own book. I have placed that book on an affiliate platform so that bloggers, vloggers, and influencers can now promote my product with a link. In this way, I increase my sales channel without running any risk. I only pay the promoter when something has been sold.